SMPlayer 17.1 features experimental support for Chromecast. Now you can send videos from SMPlayer to your Chromecast device, including local files from your computer and online streams such as TV channels or videos from sites like YouTube, Dailymotion, Vimeo, Vevo and many more.
Notice however that Chromecast only supports a limited list of formats and codecs, so some videos won't play. Click here to see the list of supported media.
Requirements
SMPlayer 17.1
Google Chrome browser (or Chromium) with the Google Cast extension installed (or alternatively a smartphone or tablet with the Google Chrome browser, if you prefer to control playback with one of those devices)
Ubuntu and debian users must install the package webfs (sudo apt-get install webfs). This is a tiny web server that SMPlayer will run in order to serve local files to Chromecast.
How to play a video on Chromecast
Start to play a video in SMPlayer, then select the option Play on Chromecast from the Play menu. (After that you can stop playback in SMPlayer).
Note: at this point Windows users will probably get a notification from the Windows firewall. Please click on "Allow access". Otherwise Chromecast won't be able to access the files in your computer.
A web page will be opened in your web browser with the URL of the video. This web page can communicate with your Chromecast device. You'll find options to connect/disconnect, start playback and controls for play, pause, volume, seek…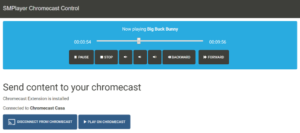 Important: although SMPlayer will open the web page with your default web browser this will probably only work with Google Chrome and Chromium.
Subtitles are not supported yet.
There's also an option in the context menu of the playlist to open the selected video on Chromecast.
Web server
In order to server local files (from your computer) to Chromecast, SMPlayer will run a tiny web server. You can change some of the settings for the server (like the port to use) in the SMPlayer preferences: Network -> Chromecast.