Last Thursday, July 16th, SourceForge suffered an outage due a storage fault. 5 days later the problem is not fixed yet. They restored some services but the project web is still offline. People trying to visit smplayer.sourceforge.net will get this screen:

So they aren't able to download SMPlayer from the official website. The downloads from fosshub.com (where the stable packages for Windows are stored) have dropped to almost 0.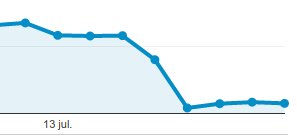 So to try to prevent this to happen again in the future, I think the best would be to host the SMPlayer website outside of SourceForge. Actually it already has been uploaded to smplayer.es.
This blog, the forum, the SVN repository, the stable downloads are already outside of SourceForge.